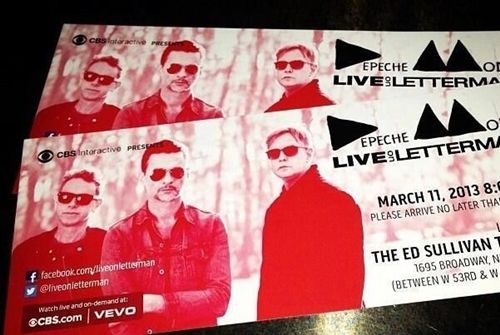 Ontem a noite o Depeche Mode mostrou mais uma vez por que esta sempre entre as melhores bandas de todos os tempos, com 33 anos de carreira e mais de 110 milhões de álbuns vendidos o Depeche Mode faz sua primeira apresentação ao vivo desde do fim da Tour of the Universe, a apresentação foi no programa de David Letterman na CBS, e vou transmitida ao vivo pela internet e nos telões da Time Square e Nova York, parte da promoção de seu novo álbum Delta Machine que será lançado no dia 26 de março, e seguida de uma nova tour mundial que começa dia 4 de maio em Israel e deve passar inclusive pela América do Sul em 2014 segundo recentes declarações de David Gahan a revista Billboard.
Na apresentação de ontem a noite com quase 50min o Depeche Mode esbanjou vitalidade e ótima forma contando clássicos e mostrando que ainda estão com a criatividade eletrônica em alta com novas faixas do seu novo álbum, Delta Machina, aponta como o álbum mais eletrônico de todos desde Ultra de 1997, e esta criando um furor incontrolável nos fãs (devotees) da banda que estão em êxtase depois da apresentação de ontem a noite.
Na opinião do blogueiro que os escreve, anotem Delta Machine será um novo álbum marco para o Depeche Mode.
Se você perdeu a apresentação de ontem é só clicar no play e curtir uma pequena amostra do que veremos na próxima tour e em Delta Machine: